Why Meglab
Our activities create many professional challenges that provide opportunities to excel in an exciting work environment with diverse career opportunities.
our strength is the team !
In addition to contributing to the advancement of innovative solutions for the industry, at Meglab you will find an environment where the pleasure of working is one of the fundamental values.
The workplace is healthy, the exchanges are respectful and humor is part of everyday life. Mutual support and teamwork are integral to our success.
David Coderre
Sales rep
David Coderre is originally from Rouyn-Noranda and has 3 children. He completed his DVS in electricity at the Centre Polymétier de Rouyn-Noranda. He started his career in construction where he worked as an electrician on industrial and commercial projects for 5 years. It was at the Westwood mine that he was introduced to the mining world. He worked on deploying various electrical solutions to support the mine's operations.
David has distinguished himself by his desire to learn and to make a difference every day in his work. This is one of the reasons he became interested in Meglab. In 2019 he joined the team as a sales representative.
His electrical skills were certainly an important asset to his work, but it is mainly because of his knowledge of the mining industry that David brings added value to our customers. Over the years, he has developed his expertise and is now able to integrate all Meglab products and services when thinking about the best solution for customers. Internally, he is affectionately referred to as our "racehorse" because David is always out in front. When he meets with clients, he is able to anticipate challenges and needs.
When CMAC was looking for a development partner for projects in Morocco, they naturally turned to Meglab. After a few visits and discussions on the development issues of the projects, David saw himself as the right person to carry out the work to be done.
He flew to Casablanca, Morocco in early July. He will support various mining projects with his expertise. He will hold meetings with clients, canvass for personnel and work on developing partnerships. He will also oversee the manufacturing of equipment such as electrical substations.
With so much work to be done, David has agreed to live an experience and settle for two months in Morocco. He will live in a condo with his family. And yes! The whole family has chosen to follow him in this experience.
"I think it is simply magical and it gives me wings. I am very grateful that my wife has agreed to live this unique experience with me. It will also be very enriching for the children."
– David Coderre
Heart to heart
"What I like best about working at Meglab is the fact that I can grow professionally. I feel that a great deal of trust is placed in me and this motivates me to continue. The managers are good listeners, they know how to identify the strengths of each person and do not hesitate to put them to good use."
– David Coderre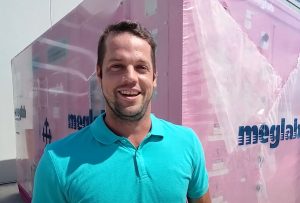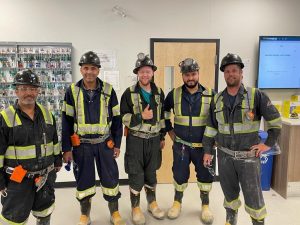 Eldorado Gold Québec, Lamaque mine visit : Youssef Ghafel from Epiroc, Ahmed Essafi from Geosond Maroc, Dan Boisvert from Eldorado Gold, Abdeljabbar El Achhab from Epiroc and David Coderre from Meglab.