Multiple
Converting to a Fully Electric Mine: Challenges and Solutions
*originally published on http://canadianminingmagazine.com/converting-to-a-fully-electric-mine-challenges-and-solutions/
Converting to a fully electric mine
As trends in the mining industry shift towards electrical power, the power team at Meglab has developed different solutions to meet the challenges brought on by this shift.
When Goldcorp/Newmont launched a fully electric project at Borden mine in 2016, Meglab played an early role in guiding the mine through the design of this new mining strategy.
As suppliers continue to develop electric vehicles with rechargeable batteries, the electrical infrastructure also needs to change to support the increasing demand for energy.  When designing an underground power system, it's important to consider how equipment will be powered, the type of power required, and how demand will be managed.
There are considerable benefits to switching to battery-powered electrical equipment.  First, the reduction of noise, air temperature, and contaminants in the underground air is a significant factor for workers' health.  Second, operating costs are reduced due to lower ventilation requirements and reduced use of diesel fuel.
For example, Goldcorp/Newmont expects Borden to produce 70 per cent less greenhouse gases than a comparable diesel mine, eliminating 7,000 tons of CO2 per year.  By going electrical, Goldcorp/Newmont has also been able to cut their ventilation requirements by 33,000 megawatts per year, on top of two million litres in diesel fuel savings.  In total, they will be able to save approximately $9 million per year on operating costs. (1)  Goldcorp/Newmont will also be able to reduce their maintenance expenses for their battery electric fleet.
Supporting the Transition
As energy requirements increase, the electrical infrastructure must also adapt.  In Canada, the 600-volt electrical system has been, until recently, a standard.  Instead of adding electrical substations to meet demand, our team worked on developing a more powerful 1000-volt model, and was eventually able to install these new substations.  Ultimately, this allows the mine to be more energy efficient and require fewer electrical substations, as they can be placed further away from each other.
For example, at the Vale Voisey's Bay mine, we were asked to provide electricity to 1.7 kilometres of gallery.  With standard 600-volt substations, seven (7) substations were needed to reach the bottom of the mine.  With the 1000-volt model developed by our design team, we were able to provide electricity to the desired area using only two (2) substations.
Compared to their 600-volt counterparts, 1000-volt substations offer significant benefits.  For one, in order to stay below a voltage drop of 3 per cent (average of 2.78 per cent), only one substation is required per 1000 metres.  This benefit is especially important because it reduces the need to excavate, and the associated costs.
These stations also eliminate electrical bottlenecks and require smaller, lighter, and cheaper extensions (2 / 0AWG, SHDGC 2kV), which play an important role in reducing costs.
Managing energy while avoiding premature wear and tear on electric vehicles, power outages, and untimely shutdowns is challenging, and our team takes these challenges into account when tailoring solutions for customers.  Great management is essential as more and more industries are switching to electricity as a source of energy, which is why we have devised a solution to manage energy in real time with our smart substation.
From Face to Surface: Data Sharing
In order to accelerate decision making and ultimately maximize productivity, our "connected" electrical substation takes advantage of existing networks while adding valuable information for decision-making.  We believe that electrical equipment plays a role beyond that of a power terminal; it can transform into a terminal that creates network connections, an indispensable tool that now allows communication within this equipment via LTE, Wi-Fi, IP telephony and other means.
With this system, the intelligent substation can send data such as transformer temperature, total amperage consumed, voltage, Arc Flash detection, hot spots and other critical elements to the surface, making it possible to monitor these important factors in real-time.
Built-in sensors can trigger alarms to inform the operator of any anomaly, allowing them to take appropriate precautionary measures, thus avoiding damage to equipment or loss of production.
Two-way exchanges allow an operator on the surface to offload or modify the energy input in different areas of the mine, in order to optimize the use of generators in the event of a power outage.
The smart substation is essential during an emergency; it can provide power for ventilation at specific locations, or target pumping to prevent flooding.
This information can be viewed on an HMI device such as a tablet or a mobile phone from anywhere in the mine, provided a connection to the network is available.
This all-in-one intelligent substation can be equipped with cameras and a multitude of sensors that support telemetry implementation, which is increasingly present in today's mines.
This multifunctional equipment can also serve as a charging station for electric mobile equipment.
Our substations are designed and assembled in sea freight container or custom skid mounted unit to allow an easy transport to the worksite.  In anticipation of its underground installation, its mounts, and structure support to suit a vertical, as well as a horizontal, transport.
In addition to manufacturing equipment that meets the highest industry standards, Meglab is a valuable partner from the very beginning of the project.  Thanks to our teams of engineers, we are able to conceptualize the electrical layout of the mine, evaluate needs and costs, and make recommendations to maximize benefits.  We manufacture customized CSA-certified equipment and offer preventive maintenance programs to extend the life of the equipment.
References: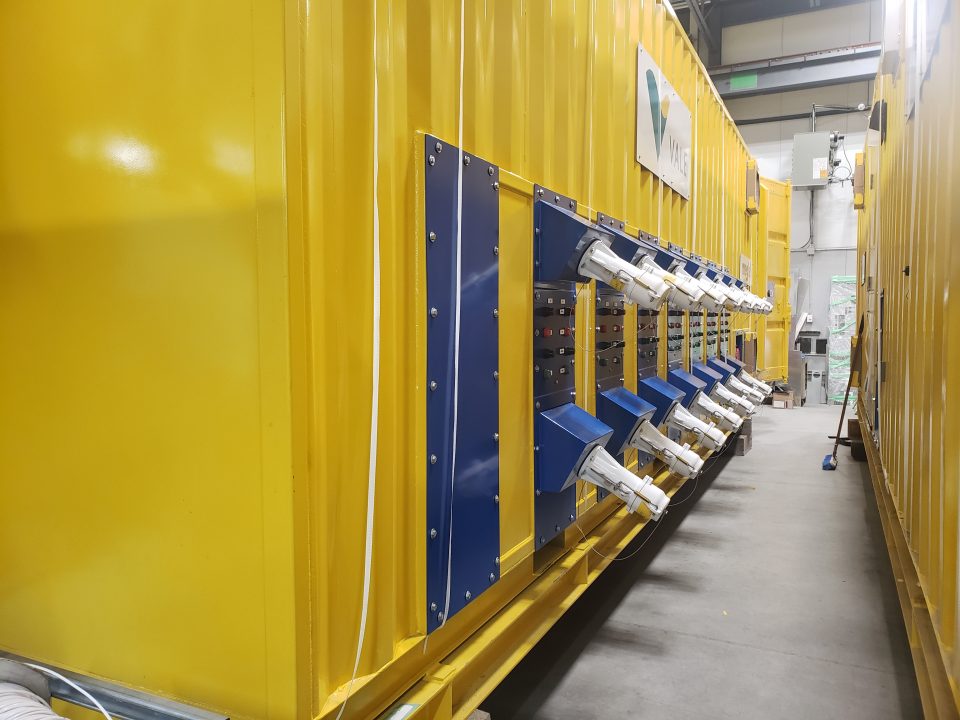 Photo gallery